Dearly Deceased … Well the time is near !!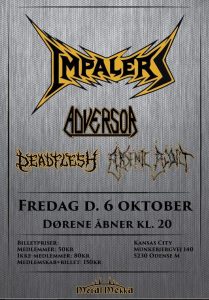 We are head­ing for our first gig as Arsenic Addict, on the 6th Oct 2017.
We will be per­form­ing alone­side acts the thrash­ers Impaler, Advesor, and the death met­al band Dead­flesh.
Every­one in Arsenic Addict is excit­ed for the show, and we want to per­form our best ,
so we have expand­ed our week­ly rehearsal, to be twice a week.
This is so we can per­form our best at the live event.
Well every­one besides me (Morten, Vocal­ist), has done live shows , many times before.
This being a first time for me as a vocal­ist, well if you don't count the "drunk onstage per­for­mances" i have made,
is thrilling to me , almost like mur­der­ing for the first time for a ser­i­al killer.
Well I have cheat­ed a bit, I went and had a talk at a con­fer­ence in sep­tem­ber of 2017, talk­ing about some of my work-relat­ed stuff.
But every­one here in Camp A33A, are ready to have a par­ty and deliv­er a show to peo­ple who come to the show, and we also hope we might gain new fans !!!
So for now … We marked our first vic­tim , Now go ahead and die !!!!.