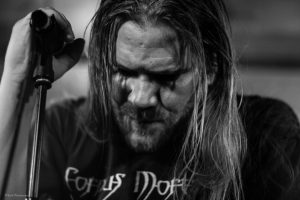 Morten wat the lead vocals in the band, he wrote most of the lyrics.
His inspi­ra­tion for vocals is very mixed.
Equip­ment:
Shure SM55 Deluxe , Behringer cheap ass micro­phones
Inspi­ra­tional vocal­ists:
Mike pat­ton, Mina Caputo / Kei­th Caputo, George "corpse grinder",Glen Ben­ton, Dani Filth, Ozzy Osbourne, King Diamond,Mads Haar­løv, Mar­tin Rosendahl, Hank III
Fan of bands:
Faith No More,King Dia­mond, Nile, Life Of Agony, Dei­cide, Can­ni­bal Corpse, Black Sab­bath, PAIN, gorefest, Hank III
And many more
Morten work as an Oper­a­tions Spe­cial­ist at one of Den­mark's biggest tele­vi­sion sta­tions.
He is also a web devel­op­er and com­put­er enthu­si­ast in his spare­time, some call him a nerd and a geek, as he often rants about com­put­er stuff, that leaves most peo­ple just stand and stare, like he is a weirdo.